← All Weekend Workshops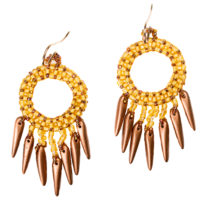 Mermaid's Tears Earrings -Exercise in CRAW
October 22, 2017, 11-3
Instructor: Teddi Fine
Fees:
$90 for BBS members/$100 for non-members
Payment details:
Description
This pair of earbobs was a happy bit of serendipity. Teddi was working on a cubic right-angle weave (CRAW) project–a since-abandoned bracelet–and had a " low-key "Eureka" moment, signaled by a quietly whispered "Yes," rather than a screamed "AHA!", but it was a special moment nonetheless. The Mermaid's Tears earbobs were the result.
Cubic Right-Angle Weave can be initimidating, particularly the challenge of getting it started. So, in this class, you will begin by walking through the process of creating CRAW, a technique that can be adapted to may different types of jewelry. You will use large beads for that purpose, just to make it simpler and easier to handle and visualize. With the basics under your belt, you can create these wonderful lightweight earrings that couple CRAW with regular RAW links from which the "tears" dangle.
The best part is that once CRAW is mastered, these earrings are simple to fabricate, infinitely changeable, and incredibly versatile. Change bead colors and sizes, add embellishments to the sides of the CRAW elements, switch from daggers to fringe or hang a "something"—perhaps a pearl, a crystal, a tiny beaded bead or a stone—in the center of the circle instead. Voila! A veritable panoply of options! And once you get the hang of CRAW, you won't want to stop making them and other projects using this incredibly versatile stitch.
Supplies
Kits will be available in several different color ways. The class fee covers the cost of a single kit and tutorial. Additional kits can be purchased separately during the class.
About the instructor
We are extremely excited , Teddi Fine, a Nationally renown Jewelry artist and designer and a member of the Baltimore Bead Society is teaching two workshops in October.