Upcoming Classes
← All Winter Bead Show Classes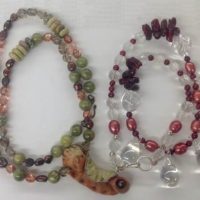 Stringing by Design
January 20, 2018, 10:00am-12:00 noon
Instructor: Bette Koger
Kit fee:
$20
Class fee:
$20
Description
Skill Level: Beginner/Advanced Beginner
This class will concentrate on as many aspects of design and stringing techniques for making necklaces and bracelets as time will allow.  We'll discuss the use of cording, elastic, beading wire, memory wire, and beading tools as required.  You'll learn how to apply clasps, crimps, knots, and get tips on learning to use various beads of complementary sizes and colors to make different styles and designs.  You should be able to take your completed piece, or know how to complete it, by the end of class.
Supplies
One of a kind, see-through, kits will be available for selecting. 
 
Tools will be available for use in class.