Upcoming Classes
← All Winter Bead Show Classes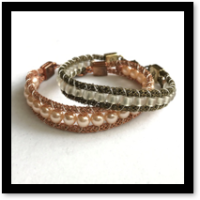 Captured Wrap Bracelet
January 20, 2018, 10:00am-12:00 noon
Instructor: Darlene Mansue
Kit fee:
$22
Class fee:
$20
Description
You'll learn to make this beautiful sparkling bracelet using Silver Silk Capture with delicate pearls or seed beads.  The design is a twist on the popular leather wrap bracelets, but with a dressy appeal.  We will use Silver Silk's Capture, which is a unique knitted wire product exclusively made in the USA.  You will learn how to work with the Silver Silk Capture, which is a non-tarnish wire that's machine knitted around ball-chain, this process makes the knit not only sparkle but strong and durable. 
Skill Level – Beginner
Minimum Class Size- 2
Maximum Class Size-12
Supplies
The kit will include 18 inches of Capture(there will be color options), Silver beading wire, Double Capture Ends, Pearls(or seed beads), lobster claw clasp, crimp covers, crimp beads, jump rings and a headpin. 
You will need to bring basic jewelry tools:  chain nose plier, round nose plier, crimping plier, cutters, measuring tape or ruler, a macramé board, and a small work light.