Upcoming Classes
← All Winter Bead Show Classes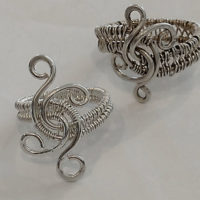 Woven Interlock Ring
January 21, 2018, 11:00am-1:00pm
Instructor: Jackie Orsini
Kit fee:
$15
Class fee:
$20
Description
Learn to work with a small gauge fine silver to weave a band for a simple, yet elegant ring. We will learn to manipulate a heavier gauge silver to form the ring base . We will use hammers & a steel block for accents. Tools will be available for use.
Level: Beginners, Intermediate
Maximum # of Students: 10
Note: There is a $3 charge to cover PayPal fees added to all classes.
Supplies
Kit includes: fine silver , sterling silver
Students should bring:
Optivisor if needed