Upcoming Classes
← All Winter Bead Show Classes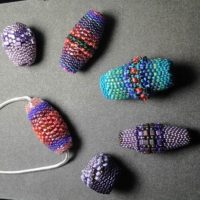 Beaded Bead
January 20, 2018, 3:00pm-5:00pm
Instructor: Bonnie Dunn
Kit fee:
$7
Class fee:
$20
Description
Learn how to set up a large bead to peyote-stitch around, to produce a beaded bead to use as a focal bead. You'll start with larger seed beads (size 6 or 8) and progress to smaller ones (size 8 or 11) for this project. Don't expect to finish your bead in the 2-hour class – but starting the bead is the hardest part, you'll get close to finishing, and Bonnie will discuss decreasing stitch for the finishing, and design possibilities.
Skill Level: Advanced Beginner; some seed bead experience is helpful
Supplies
Consists of a large round or oval bead, 1/2" to 2" in size, and seed beads size 11 to 6, along with some specialty beads such as triangles, in 3-5 colors; you should bring a bead mat, a size 12 bead needle, and 6 to 10 lb Fireline (or thread of your choice).