Upcoming Classes
← All Winter Bead Show Classes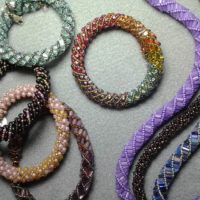 Russian Spiral Bracelet or Necklace
January 20, 2018, 12:30pm-2:30pm
Instructor: Bonnie Dunn
Class fee:
$20
Description
Learn the Russian Spiral stitch, a fun way to make a seed bead rope for a necklace or bracelet! Once you learn the stitch, you'll learn how to change the bead colors gradually, changing the large beads and/or the small ones, to achieve a tonal shift in the color of your work without a sharp dividing line. Next, to add more interest, you'll learn how to use the novelty beads as a focal point. You will not finish this project in class. 
Skill Level: Advanced Beginner; some seed bead experience is helpful
Supplies
Consists of size 8 and 11 (or 15) seed beads in many colors, and size 8 or 6 novelty seed beads; you should bring a bead mat, a size 12 bead needle, and 6 to 10 lb Fireline (or thread of your choice).