Upcoming Classes
← All Winter Bead Show Classes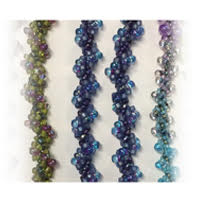 Spiral Rope Necklace
January 20, 2018, 12:30pm-2:30pm
Instructor: Shannon Nelson
Kit fee:
$15
Class fee:
$20
Description
Spiral rope is an easy and quick seed bead technique that you can use to produce necklaces or bracelets that stand on their own, or that support a focal piece. Changing the types of beads used will also vary the look of the rope. Shannon is teaching with size 8 seed beads, making it easier to learn and faster to complete an item.
Skill Level: Beginner
Supplies
Kit includes two colors of beads and a drop bead.
Supplies – 6 or 8 lb Fireline, bead mat, scissors and beading needles.
Min # of Students: 2
Max # of Students: 15