Upcoming Classes
← All Winter Bead Show Classes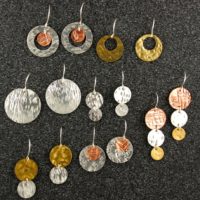 Mixed Metal Textured Earrings w/Handmade Ear Wires
January 20, 2018, 3:00pm-5:00pm
Instructor: Donna Madej
Kit fee:
$25
Class fee:
$20
Description
Make beautiful earrings using Sterling Silver, Copper and Brass to make all silver or mixed metal earrings. All connections will be cold connections, no torch work. Use hammers to create your own original designs. A disk cutter will help to enhance your design with assorted circle shapes. Learn to make handmade ear wires that are strong and well formed from everyday objects. Then polish to a bright shine or keep a matte finish. Patina will be available. Each student will make 1 to 2 pairs of earrings.
Level: Beginner
Min. # of Students: 4
Max. # of Students: 15
Supplies
Kit will include a 2" x 2" 22 gauge sheet of sterling silver, copper, brass, 1 foot of 20 gauge sterling silver round wire, jump rings, polishing papers and use of patina if desired.
Please bring what you have – bench block or anvil, texturing hammers, small ball peen hammer or chasing hammer, round-nose pliers, 2 pair chain-nose pliers or 1 chain-nose and 1 flat-nose, dapping block and dapping punches and polishing cloth. You may also use decorative stamps to make your designs. The instructor will have tools to share, but the more we have the faster and easier the class will go!