Upcoming Classes
← All Winter Bead Show Classes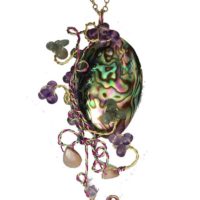 Paua Pendant
January 21, 2018, 1:30pm-3:30pm
Instructor: Melody MacDuffee
Kit fee:
$5
Class fee:
$20
Description
This delicate pendant is surprisingly easy to make. Learn the basics of twisting wire while adding beads that complement the glowing colors in these little treasures of the sea.
 
Supplies
Kit includes all supplies for pendant.
Tools: primarily fingers; also roundnose and chainnose pliers and wire cutters, and there will be some to share in class.