Upcoming Classes
← All Winter Bead Show Classes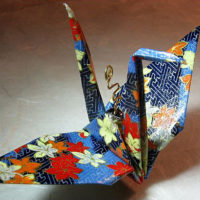 Origami Crane Ornament
January 21, 2018, 1:30pm-3:30pm
Instructor: Shawnnee Holmberg
Kit fee:
$5
Class fee:
$20
Description
Perfect for the New Year, 2018, a large Origami Crane Ornament for Peace, Prosperity and Health.
You will fold/create a Japanese Crane out of Yuzen Washi(paper). It will be finished and ready for hanging.
Level: Beginner
Min. # of Students: 3
Max. # of Students: 10
Supplies
Kit includes 2 pieces 6"square of Yuzen Washi, plastic pieces for the wings, wire, bead, string, glue, stiffy. Everything needed to do this project will be provided. Extra paper will be available.
If we could have a couple of hair dryers to help the drying process of the glue, that would be helpful.