Upcoming Classes
← All Winter Bead Show Classes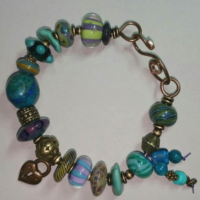 Channeling Connie Fox – Make a Lampwork Bead Bracelet
January 21, 2018, 1:30pm-3:30pm
Instructor: Nolly Gelsinger
Kit fee:
$45
Class fee:
$20
Description
Years ago, I took several classes from designer and silversmith Connie Fox. Her timeless style has come back to me in this bracelet design, in which I use my handmade glass beads to make a joyful, colorful bracelet. Learn to size a bracelet using large beads, learn basic wire skills including making a spiral hook clasp, drill stones to enlarge holes and easy knotting skills to make the beaded dangles. 
Level: Beginner
Max. # of Students: 10
Supplies
Kit fee includes brass or copper wire, your choice of up to $35 in Nolly's Folly Studio glass beads, and brass or copper beads, and a selection of stones and small beads for dangles.
The instructor will provide all necessary tools for use in the class.