Celebrating May 1 – June 14, 2016
Charm Exchange & Earring Challenge!
May 10th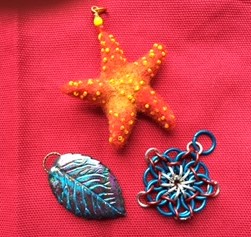 You can submit up to 5 charms. The charms must be handmade out of any mixed media – clay, beads, paper, metal, fabric, yarn etc. They must include a clasp of some kind in order to be attached to a bracelet, key ring or chain. The size must be at least ¾" but no larger than 2".
For every charm submitted you will get an equal amount in return.
When you come to the meeting, present your charm to Debbie Shipley. For each charm you submit you will get a number. When your number is called you will get to pick a charm.
Find out more information about our Programs here.
The Baltimore Bead Society meets on the second Tuesday of each month from September through June at the Howard County Center for the Arts in Ellicott City, MD, from 6:30 to 10 pm.
Our programs and workshop classes are very interesting, informative, and enjoyable. Members have great enthusiasm for learning new techniques in a social and fun atmosphere.
Our Winter Bead and Jewelry Show every January is our biggest annual event that showcases our members' work in every aspect of beadwork and jewelry, in addition to many vendors and suppliers.
Visitors are welcome to join us. Come and meet us.